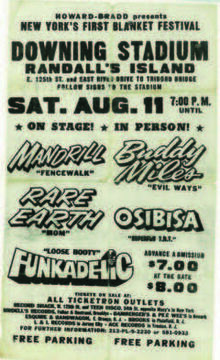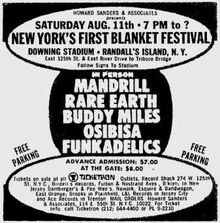 Advertised as New York City's first blanket festival. The event took place at Downing Stadium on Randall's Island, on Saturday August 11, 1973 and begin at 7:00 PM. The bill for the "Blanket Festival" featured Mandrill, Rare Earth, Osibisa, the Buddy Miles Express, and Funkadelic.
Funkadelic came out wearing Indian head dresses and opened up with one of their early recordings like "Hit It and Quit" or "I'll Bet Ya". This was followed by "I Call My Baby Pussycat". The vocal group Parliament left the stage as the Funkadelic musicians began playing "Maggot Brain" under a red spotlight. Fights broke out in the crowd which led to a long intermission.
During intermission it was announced that Mandrill would be next and the crowd erupted in applause. They played "Ape Is High", "Fencewalk", "Mandrill", "Git It All" plus other fantastic hits. They didn't have a chance to finish their act, because fights broke out during their performance. After this the rest of the show was cancelled.